In Stock
This all-new full-frame premium compact prime for mirrorless systems is the latest addition to SIGMA's I series lineup, combining a bright maximum aperture of F2, an ultra-wide 20mm focal length and stunning optical performance. The lens boasts an exceptionally small form factor, weighing in at just 370g and measuring just 72.4mm in length*, which makes it a highly practical optic that is portable enough for everyday shooting. It's ideal for landscapes, wide-angle portraits, weddings and interiors, and is particularly well-suited to astrophotography owing to its very well-controlled sagittal coma flare. It is the fourth I series lens with an F2 aperture, joining a 24mm, 35mm and 65mm, which together make a well-matched lens set for L-Mount and Sony E-mount users.
Remarkably, the 20mm F2 DG DN | Contemporary is almost identical in size and weight to the very compact SIGMA 24mm F2 I series. A sleek, all metal design, with a signature I series magnetic lens cap, a manual aperture ring and exceptional production quality means using this lens is a highly intuitive and satisfying experience, making the photo-taking process even more enjoyable. This sharp and beautifully built I series prime, the SIGMA 20mm F2 DG DN | Contemporary captures the essence of the I series, bringing a new level of user experience―the pleasure of owning and using a lens.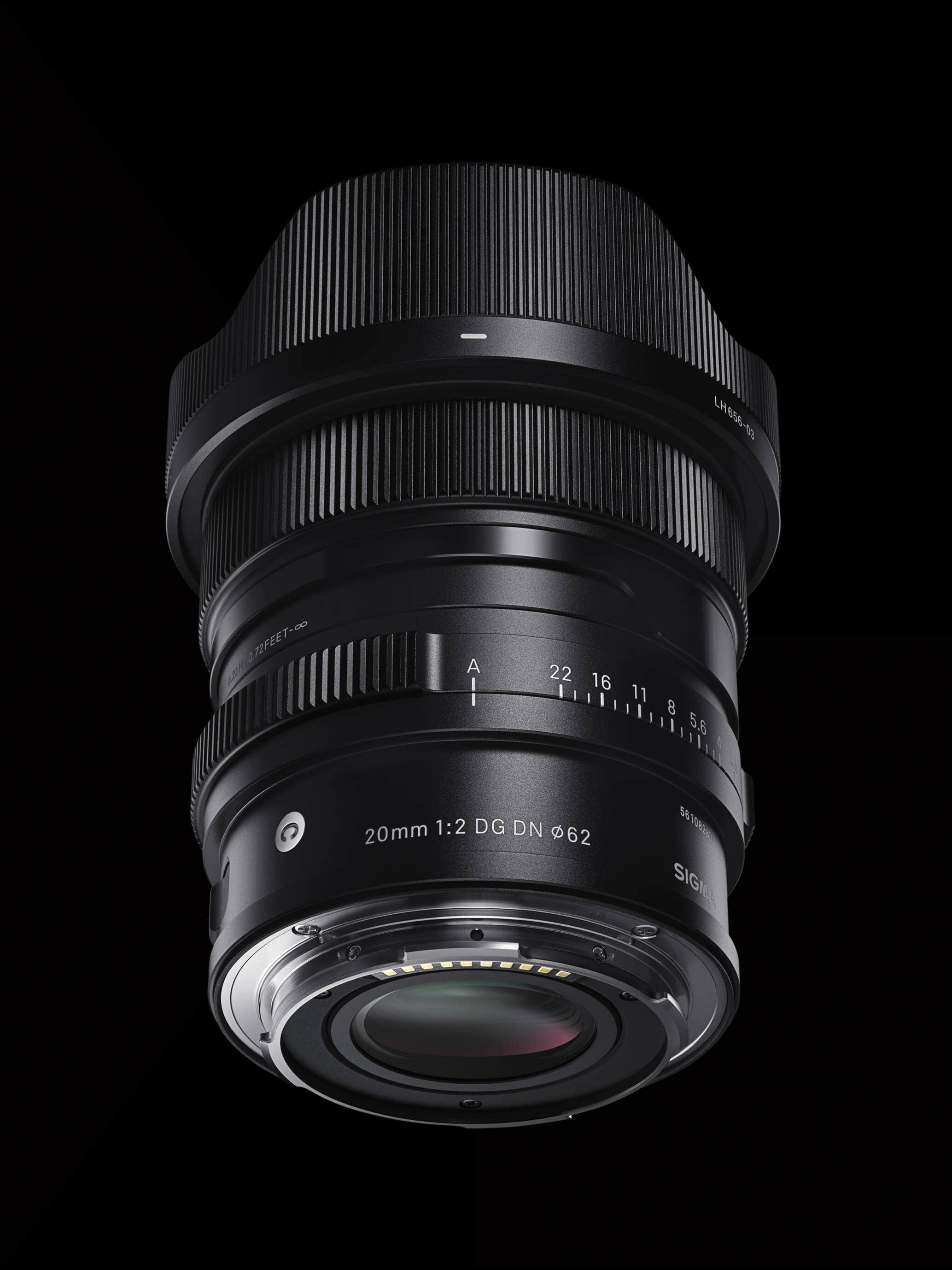 Specifications
More Information
Product Lines
Contemporary
Construction
13 elementen (1 FLD, 1 SLD en 3 asferische lenselementen) in 11 groepen
Lens Type
Wide Angle
Sensor Size
Full Frame
Angle of view
94.5°
Number of diaphragm blades
9 (afgerond diafragma)
Minimum aperture
F22
Minimum focusing distance
22cm
Maximum magnification ratio
1:6.7
Dimensions (diameter x length)

L-Mount
φ70mm × 72.4mm / φ 2.8in. x 2.9in.
Sony E-Mount
φ70mm × 74.4mm / φ 2.8in. x 2.9in.

Filter diameter
62
Edition number
22
* All figures calculated by L-Mount. Note: The L-Mount Trademark is a registered Trademark of Leica Camera AG. About Product Name: Product name includes "DG" when the lens is designed to deliver the ultimate in performance on cameras with full-frame sensors, and "DN" when the lens design is optimized for mirrorless cameras with the short flange focal length.